Electronics Parts

Crystal
Quartz Oscillator is electronics parts that play a vital role such as the heart of human being, as it makes clock signal for various devices. We recommend the crystal units with the high reliability from RIVER to create a precise frequency for wireless communications based on The Fourth Industrial Revolution and IoT. RIVER Electec Corporation globally pioneers the standardization of Crystal size, and develops and manufactures subminiature crystal suited for IoT and Wireless Devices that are getting smaller and smaller. Being of the world's highest quality and production, RIVER is doing the Matching Service tailored for our customers' circuit.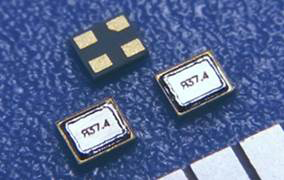 FCX-08 (1.2mm*1.00mm*0.3mm)

Frequency range of subminiature chip Crystal is 36~80MHz, and this Crystal is suitable for various portable products such as Smart Watch and Mobile Device, and compact communication modules such as Zigbee, Bluetooth, WI-FI, and so on.
Crystal LIST
MHz Crystal Units
| Products | Size (mm) | Frequency range | Operating Temperature |
| --- | --- | --- | --- |
| FCX-08 | 1.2 x 1.0 x 0.33 | 32.0 ~ 80.0 | -40 ~ +125 |
| FCX-07L | 1.6 x 1.2 x 0.33 | 24.0 ~ 80.0 | -40 ~ +125 |
| FCX-07 | 1.6 x 1.2 x 0.45 | 24.0 ~ 80.0 | -40 ~ +125 |
| FCX-06 | 2.0 x 1.6 x 0.50 | 16.0 ~ 90.0 | -40 ~ +125 |
| FCX-05 | 2.5 x 2.0 x 0.55 | 11.0 ~ 80.0 | -40 ~ +125 |
| FCX-04C | 3.2 x 2.5 x 0.70 | 9.0 ~ 60.0 | -40 ~ +125 |
| FCX-04 | 3.2 x 2.5 x 0.90 | 13.0 ~ 60.0 | -40 ~ + 105 |
| FCX-03 | 5.0 x 3.2 x 1.5 | 8.0 ~ 60.0 | -40 ~ + 85 |
KHz Crystal Units
| Products | Size (mm) | Frequency range | Operating Temperature |
| --- | --- | --- | --- |
| TFX-05X | 1.2 x 1.0 x 0.35 | 32.768KHz | -40 ~ +105 |
| TFX-04C | 1.6 x 1.0 x 0.50 | 32.768KHz | -40 ~ +105 |
| TFX-04 | 1.6 x 1.0 x 0.50 | 32.768KHz | -40 ~ +105 |
| TFX-03C | 2.0 x 1.2 x 0.60 | 32.768KHz | -40 ~ +105 |
| TFX-03L | 2.0 x 1.2 x 0.35 | 32.768KHz | -40 ~ +105 |
| TFX-03 | 2.0 x 1.2 x 0.60 | 32.768KHz | -40 ~ +105 |
| TFX-02S | 3.2 x 1.5 x 0.80 | 32.768KHz | -40 ~ +105 |
Crystal Osillators
| Products | Size (mm) | Frequency range | Operating Temperature |
| --- | --- | --- | --- |
| FCXO-07 | 1.6 x 1.2 x 0.70 | 3.0 ~ 80.0 MHz | -40 ~ +85 |
| FCXO-07D | 1.6 x 1.2 x 0.70 | 32.768 KHz | -40 ~ +85 |
| FCXO-06 | 2.0 x 1.6 x 0.80 | 1.0 ~ 100.0 MHz | -40 ~ +85 |
| FCXO-06W | 2.0 x 1.6 x 0.80 | 1.0 ~ 100.0 MHz | -40 ~ +105 |
| FCXO-06E | 2.0 x 1.6 x 0.80 | 22.5792 ~50.0 MHz | -40 ~ +105 |
| FCXO-06T | 2.0 x 1.6 x 0.80 | 2.0 ~ 80.0 MHz | -40 ~ +105 |
| FCXO-06C | 2.0 x 1.6 x 0.80 | 22.0 ~ 87.0 KHz | -40 ~ +105 |
| FCXO-06D | 2.0 x 1.6 x 080 | 32.768 KHz | -40 ~ +85 |
| FCXO-05 | 2.5 x 2.0 x 0.90 | 1.0 ~ 80.0 MHz | -40 ~ +85 |
| FCXO-05W | 2.5 x 2.0 x 0.90 | 1.0 ~ 80.0 MHz | -40 ~ +105 |
| FCXO-05E | 2.5 x 2.0 x 0.90 | 16.9344 ~ 50.0 MHz | -40 ~ +105 |
| FCXO-05C | 2.5 x 2.0 x 0.90 | 22.0 ~ 87.0 KHz | -40 ~ +105 |
| FCXO-05D | 2.5 x 2.0 x 0.90 | 32.768 KHz | -40 ~ +85 |